Marketing Automation – Meaning
Marketing automation is a suite of interconnected software applications which facilitates and regulates manual marketing processes. Marketing automation software assists by automating monotonous operations and enables many communication channels for your marketing strategy.
Consequently, optimized marketing procedures improve efficiency, lead generation, and ultimately income. The degree to which your business automates marketing duties depends on its specific requirements.
In order to maintain a competitive edge, your company's marketing plan needs to incorporate marketing automation technology and tools. Companies that do not use marketing automation are falling behind, particularly in the financial sector. Some financial institutions and other providers of financial services have utilized automation to liberate corporate resources. This has enabled them to concentrate on their strategy and branding rather than technical minutiae.
Refrain from allowing repetitious marketing duties to hinder your marketing goals. This blog discusses Marketing automation software and its best practices. Consider how marketing automation might provide your business with a competitive edge. Increase lead creation, add more degrees of personalization, and boost overall productivity.
Let's have a look at some of the top examples of fully-integrated marketing automation tools that can help you grow:
HubSpot is a comprehensive marketing software platform that operates online and provides a range of services, including marketing automation, website management, and blog services. These services are designed to enhance your company's marketing strategy and promote its growth. In addition to its competitive pricing, HubSpot provides a complimentary trial period that enables users to experience the software's features and functionalities before committing to a purchase.
2. ManyChat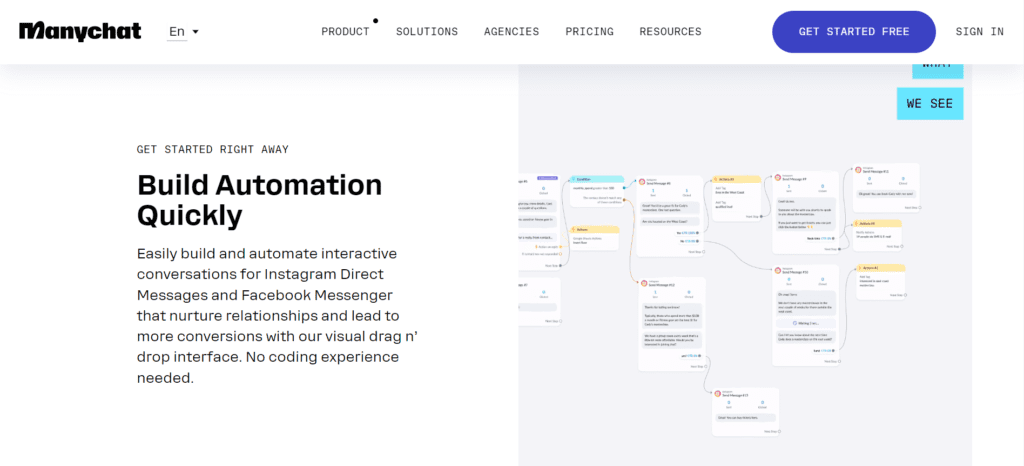 Marketing automation encompasses more than just email communication. Consider the possibility of streamlining your customer interactions on various platforms by automating some of the most repetitive conversations. ManyChat is a versatile chatbot that operates on various messaging platforms such as Facebook Messenger, Instagram Direct Messages, WhatsApp, and SMS.
ManyChat offers a user-friendly interface and a variety of templates that enable the swift creation of a bot within a matter of minutes. Furthermore, the insights gained from studying user behavior can be seamlessly integrated into your Customer Relationship Management (CRM) system and other relevant software applications.
The ManyChat platform provides a complimentary monthly subscription plan that enables users to interact with a maximum of 1,000 contacts through various messaging channels such as Instagram Direct Messages, Facebook Messenger, and WhatsApp. ManyChat offers a range of enhanced capabilities and expanded access through its premium subscription plans, which commence at a monthly rate of $15.
3. Marketo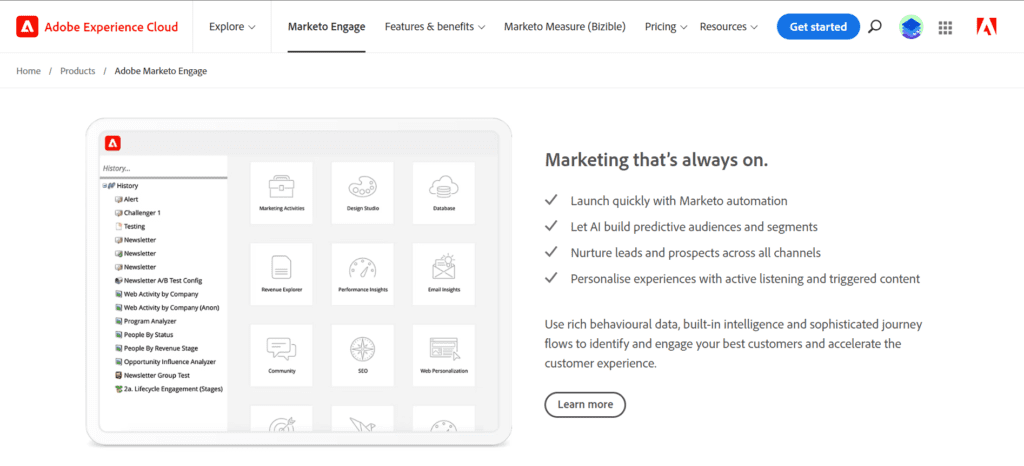 Marketo is a marketing automation software company that was established in 2006. Subsequently, Adobe procured the aforementioned entity and integrated it into its enterprise marketing cloud.
By utilizing Adobe integration, businesses can leverage the robust capabilities of Adobe Analytics for data measurement and Adobe Target for experimentation and personalization. This integration results in a comprehensive enterprise marketing automation and optimization suite.
The tool is primarily designed to cater to the needs of enterprise customers, making it less accessible for small business owners.
Unfortunately, Adobe does not provide a complimentary trial or subscription option for Marketo. To obtain a quote for Marketo's plan prices, it is necessary to contact the sales department, as the pricing is dependent on the size of your database.
4. Mautic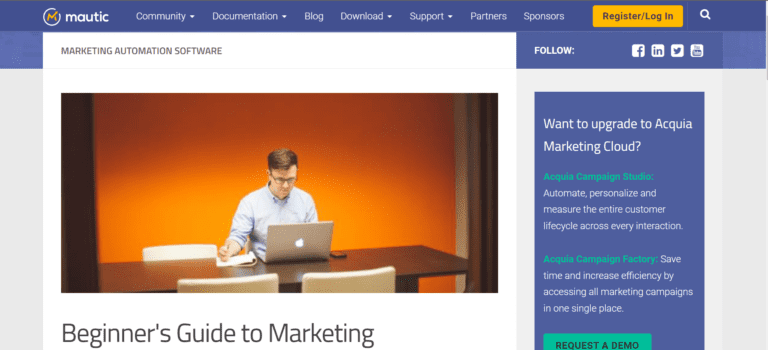 Among the options listed, Mautic stands out as the sole open-source marketing automation platform. This company is a recent entrant in the market, having been established in 2014. Mautic has experienced rapid growth and appears to be gaining momentum among high-tech enterprises.
Mautic is a widely adopted marketing automation platform, with a user base exceeding 200,000 organizations worldwide. The platform is also highly accessible, as it is offered in more than 35 languages to cater to diverse global audiences.
To your surprise, Mautic is a free marketing automation tool that you can use.
5. Silverpop
Silverpop is a cutting-edge marketing automation software that is seamlessly integrated with the IBM Marketing Cloud. It provides you with cloud-based digital marketing services. The IBM Marketing Cloud provides supplementary services like email marketing and mobile engagement solutions.
Silverpop is a versatile marketing automation platform that caters to businesses of all sizes, including individual freelancers. The global applicability of this solution is particularly advantageous for businesses with an international presence.
6. Pardot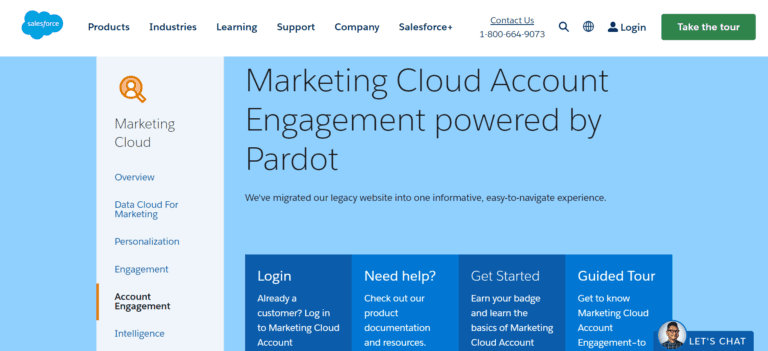 Pardot is a B2B marketing automation software developed by Salesforce. This solution is more suitable for organizations operating at an enterprise level and engaging in business-to-business transactions, rather than catering to individual consumers. Pardot provides users with the ability to leverage Salesforce's CRM, resulting in a streamlined sales cycle and increased market reach.
Advantages of Marketing Automation in Lead Generation
Enhanced Lead Generation:
Marketing automation is a highly effective strategy for streamlining lead communication and optimizing time management. This may be anything from alerting your target market about new sales to sharing your latest blog posts or even just keeping tabs on their preferences. By utilizing Marketing Automation Engagement technology, your company can enhance lead generation by effectively monitoring and engaging with website visitors on an individual basis.
Lead nurturing is a process that involves monitoring and tracking the behavior and interactions of each specific targeted consumer. Similarly, manually monitoring and managing these leads can prove to be an arduous task. Automation software is designed to store all contact and interaction data, which is then utilized to create a personalized experience for each individual interaction. By tailoring your marketing efforts to each individual consumer, you can unlock a wealth of opportunities to enhance customer engagement. This can be achieved by leveraging customized messaging that resonates with each customer on a personal level, ultimately leading to a higher ROI for your company. 
    2. Enhanced levels of customization:
Tailored and dynamic messages have been shown to elicit a significantly greater response rate compared to generic, static messages. Marketing automation software can be utilized to automate these messages. The data is systematically stored and categorized into different lists to enable prompt and automated responses.
Our automated solution for list segmentation maintains an up-to-date record of your existing and potential leads. This will prove to be a crucial factor in devising an efficient email marketing strategy, including email drip campaigns and promotional activities.
Afterward, it is possible to divide lists into distinct segments. One effective approach to categorizing customers is by analyzing their purchasing patterns, their past interactions with the company, their industry affiliations, or other relevant groupings that align with the company's objectives. Maintaining an updated data list is crucial to ensure optimal utilization of your budget and prevent wastage on disinterested customers, thereby safeguarding your ROI.
3. Enhance Your Overall Productivity:
In the business world, the efficient allocation of resources and time is of utmost importance for most companies. By implementing marketing automation, your organization can enhance its customer service while simultaneously freeing up valuable resources and team members. This competitive advantage allows your company to stay ahead of the curve in today's fast-paced business landscape. By streamlining your workflow, you can allocate more time toward personalized lead nurturing and enhance your follow-up process for both existing and potential customers.
By automating the data-gathering process, your company can save valuable resources such as time, money, and manpower. This can provide your company with a competitive advantage by allowing you to allocate these resources toward other important business operations.
It is important to note that marketing automation tools do not possess the capability to generate your campaign message on your behalf. Subsequently, it is imperative to refine the messaging and branding of the product or service being marketed. The automation software operates seamlessly in the background, providing continuous support.
By utilizing automated customer lists that are regularly updated, you can effectively target your advertising efforts toward the right audience, ensuring that your company's budget is allocated strategically and efficiently. As a result, achieving optimized targeting can lead to a greater ROI. In order to enhance sales without overburdening the marketing team, it is imperative to equip them with automation solutions that can boost their performance.
Wrapping Up!
If your organization lacks an internal marketing team, the task of identifying the appropriate automation solution can be intimidating. Outsourcing your company's marketing is a viable option that can alleviate any concerns you may have. Here's where Intent Amplify brings in its years of expertise into play.  
Intent Amplify creates custom marketing automation solutions for your organization. Our experts will collaborate with you to create a solution that meets your company's goals and maximizes ROI. We also offer secure data processing and storage.