What is Demand Generation?
Demand generation is the art of making people want what you have, even if they didn't know they wanted it until you told them. It's a marketing strategy that focuses on creating awareness and interest in a product or service among a target audience. The goal of demand generation is to get potential customers to think about your product or service and to see how it can solve their problems.
One of the ways in which Demand can be generated is through educational blogs and informative resources that can help your prospective customer with the solution they are seeking.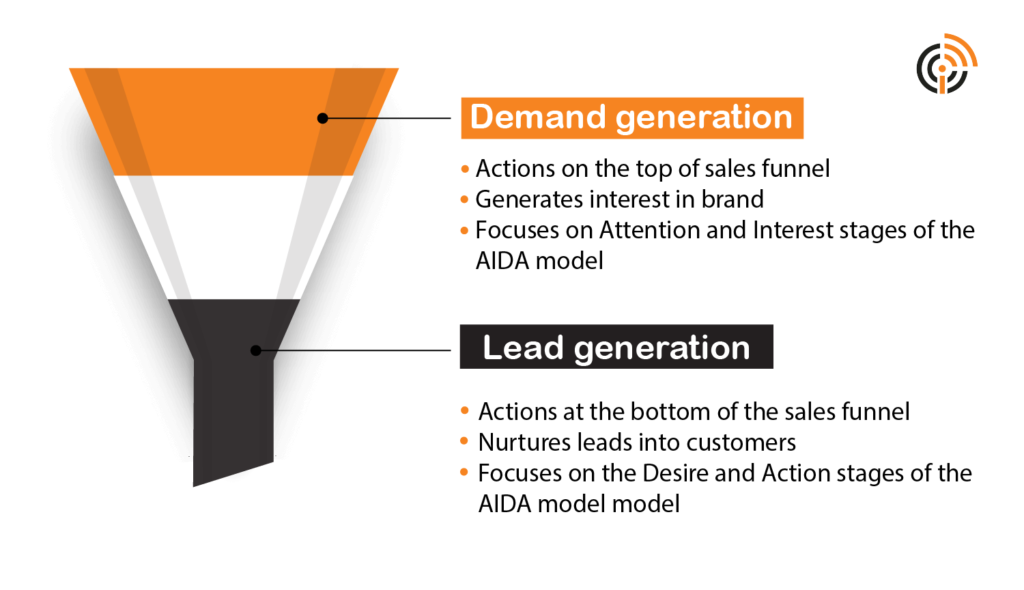 Is Demand Generation the same as Lead Generation?
No, demand generation and lead generation are not the same.
While demand generation is the process of creating awareness and interest in your products or services among your target audience, lead generation identifies and qualifies potential customers who are likely to be interested in your products or services. In a sales funnel, lead generation is a later stage to demand generation. Check the figure below:
Demand Generation vs Lead Generation
Demand generation gets you followers, lead generation gets you customers. Check out the table below: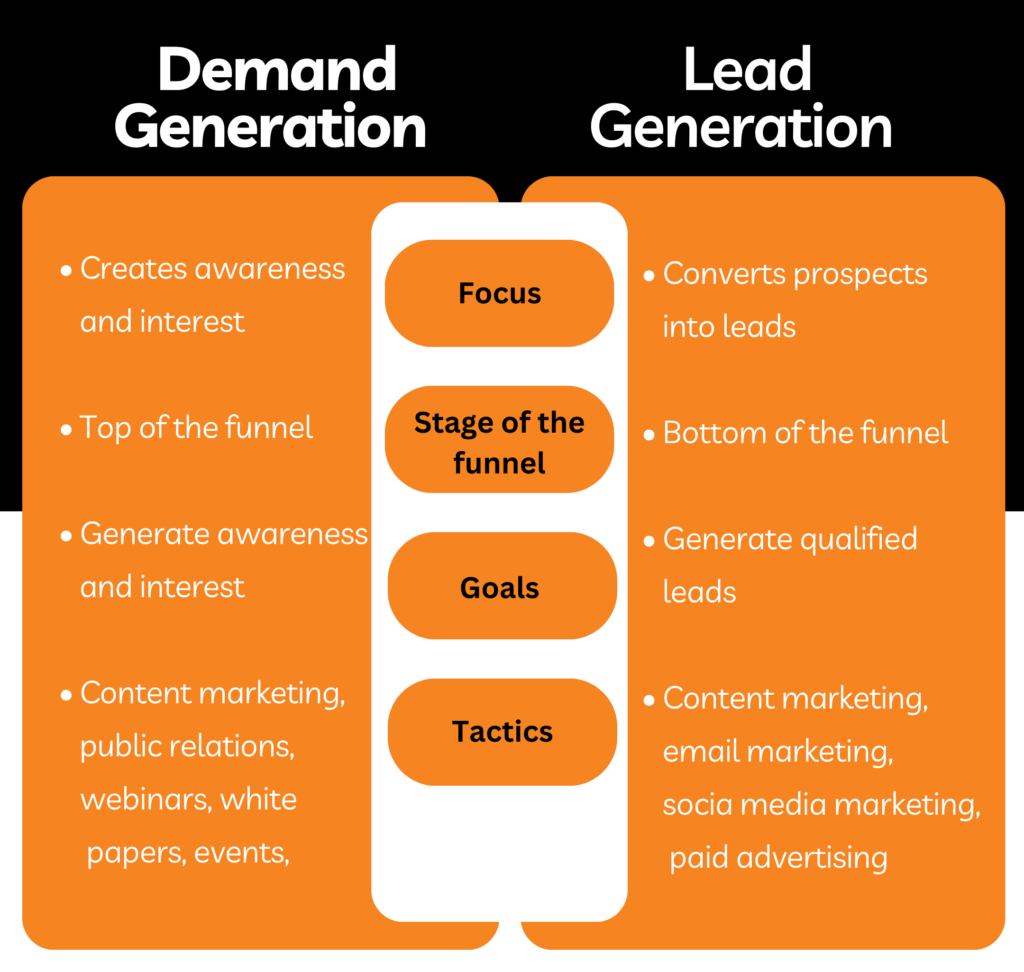 What are the channels through which demand can be generated?
How We Generate Demand for Your B2B Business
Our B2B demand generation process is tailored to each specific tactic; all of our efforts are underpinned by a thoughtful, strategic approach designed to attract high-quality leads.
We set ourselves apart from other demand generation companies by taking the time to understand your business and existing systems. We begin each project with a survey, kick-off meeting, and in-depth research.
Once we have a solid understanding of your business, we begin crafting digital marketing strategies customised for your target audiences. We build in checkpoints throughout the process to ensure alignment with your goals and brand messaging.
Our team of B2B demand and lead generation experts has the expertise and resources to reach your target audience and generate the leads that drive continuous growth.
Here are the key steps in our demand generation process
Understand your business and goals.

We want to understand your business, your target audience, and your goals. We'll conduct a survey, hold a kick-off meeting, and do in-depth research to get a clear understanding of your needs.



Develop a custom strategy.

We'll develop a custom demand generation strategy that is tailored to your business and goals. This strategy will include a mix of tactics, such as content marketing, social media marketing, and paid advertising.



Execute the strategy.

We'll execute the strategy and track our results closely. We'll make adjustments as needed to ensure that we are on track to achieve your goals.



Report on results.

We'll provide you with regular reports on the results of our demand generation efforts. These reports will help you to track your progress and make informed decisions about your marketing campaigns.





Contact us today to learn more about how we can help you generate demand for your B2B business.