In an exciting turn of events, Intent Amplify, a powerhouse in the realm of B2B marketing services, is taking its services to new heights at Cloud Expo Asia 2023. Making waves worldwide, Intent Amplify is making its presence felt at this year's edition of Asia's most sought-after technology event.
Intent Amplify: Leading the Charge
Intent Amplify has earned its stripes as a top-tier B2B lead generation company, catering to a global clientele. This time, they've set their sights on Cloud Expo Asia 2023, a key event for tech enthusiasts, industry leaders, and innovators. With a team of experienced sales and marketing professionals at the helm, Intent Amplify is all geared up to showcase its diverse range of services, forge new partnerships, and engage potential customers.
Cloud Expo Asia 2023: An Overview
Held on October 11-12, 2023, at the prestigious Marina Bay Sands Expo and Convention Centre in Singapore, Cloud Expo Asia 2023 is Asia's flagship technology event. It serves as a vibrant nexus where technologists, business leaders, and experts come together to accelerate digital transformation plans. With a lineup of over 300 exhibitors, the event spotlights the latest trends in cloud computing, along with a comprehensive conference program featuring more than 200 speakers. These thought leaders address the pressing trends and challenges gripping the tech industry today.
Intent Amplify's Impact at the Event
Intent Amplify's participation at Cloud Expo Asia has already proven fruitful, with the company gathering a trove of high-quality leads. The team's networking prowess has connected them with a diverse array of businesses from across Asia. The reception to Intent Amplify's solutions has been overwhelmingly positive, with attendees expressing genuine interest in our suite of services.
One of the standout moments of the event has been Intent Amplify's speaking engagement. The company's representative in Singapore, Ms. Somrita Bhanja, has fostered valuable connections with potential clients and partners. Her presentations have resonated well with the audience, generating significant interest in Intent Amplify's offerings.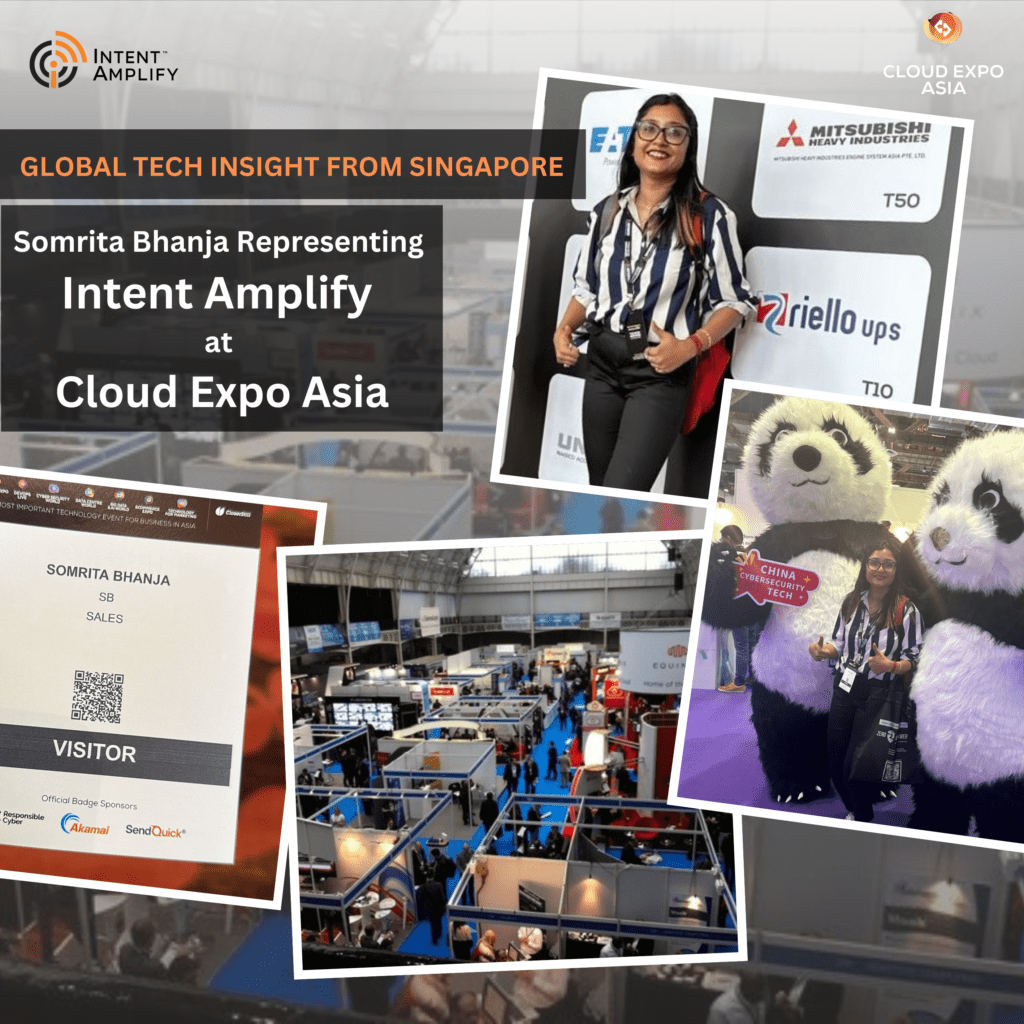 Tech Week Singapore: Where It All Happens
Cloud Expo Asia is just one part of the larger Tech Week Singapore event, brought to you by CloserStill Media. This collective effort combines seven leading technology events under one roof, including Cloud Expo Asia, DevOps Live Asia, Cyber Security World, Big Data & AI World, Data Centre World Asia, eCommerce Expo Asia, and Technology for Marketing Asia. The event is expected to draw in over 10,000 attendees from both Asia and around the world, making it a must-attend event for anyone invested in the world of cloud computing.
Intent Amplify's Vision for the Future
Intent Amplify's strong sales and marketing strategies continue to add value to businesses globally. With a passion for networking and building bridges with top-notch companies worldwide, they are poised for expansion and eager to explore new horizons.
Cloud Expo Asia 2023 has been a defining moment for Intent Amplify, showcasing their commitment to innovation and excellence in B2B marketing services. As they journey forward into the tech landscape, their dedication to fostering connections and adding value to businesses remains unwavering.